Our Science of Skincare series explores the benefits of Rosehip Seed Oil. This article shares 7 clean products using rosehip.
Clean Rosehip Products
Rose Hip Seed Oil offers the benefits of Vitamin C and Retinol serums but without the skin irritation.
Here are a few of our favorite clean beauty formulations below:
Volto Urbano
Volto Urbano Moisturizing Blue Oil is a lightweight, restorative, go-to oil packed with skin-enhancing goodness.
Many K-beauty oils masterfully address environmental concerns in certain environmental conditions. But these oils are often too heavy and oily for stateside use.

It's lovely blue hue comes naturally from chamomile, and it boasts rosehip seed oil on its' ingredient list.
Volto Urbano is a woman-owned, innovative brand with skincare formulations based on peer-reviewed research. The result is barrier-repairing, restorative skin care that combats external aging factors.
See more about Volto Urbano Moisturizing Blue Oil
Earth Wise Beauty
We are VERY excited to tell you about this amazing organic skincare line. Not only are the natural ingredients beautiful and exotic, but the products are fantastic for sensitive skin. The ingredient list is absolutely amazing inclusions and each delivers high performance in potent, healing Earth Wise products:
Earth Wise Ruby Face Oil
EarthWise Ruby Face Oil is an amazing multi-tasker with rosehip oil in its' jaw-dropping beauty ingredient lineup.
This lightweight daytime face oil can be used alone or combined with other products. It blends with their unique Farizad's Veil Sun Reflector, a multitasking powder booster to mix with oils and balms.
EarthWise Passion Eye Serum
This organic eye cream boasts zero boring ingredients. It includes amaranth oil, passionfruit oil, seabuckthorn berry CO2 extract, murumuru butter, and of course, Rosehip Seed Oil. Earthwise Passion Eye Serum deeply hydrates the delicate eye area skin.
Jeffrey James Botanicals
Jeffrey James Botanicals is a luxury organic line that uses amazing ingredients for face and body skincare. These products truly deliver. Rosehip Seed Oil appears in several products in the range. This makes sense as Jeffrey James Botanicals focuses on quality ingredients that hydrate skin.
Rosehip Oil is amongst the ingredients in Jeffrey James Botanicals The Mask. This delicious smelling, anti-aging whipped raspberry mud refines and hydrates skin while gently exfoliating with glycolic.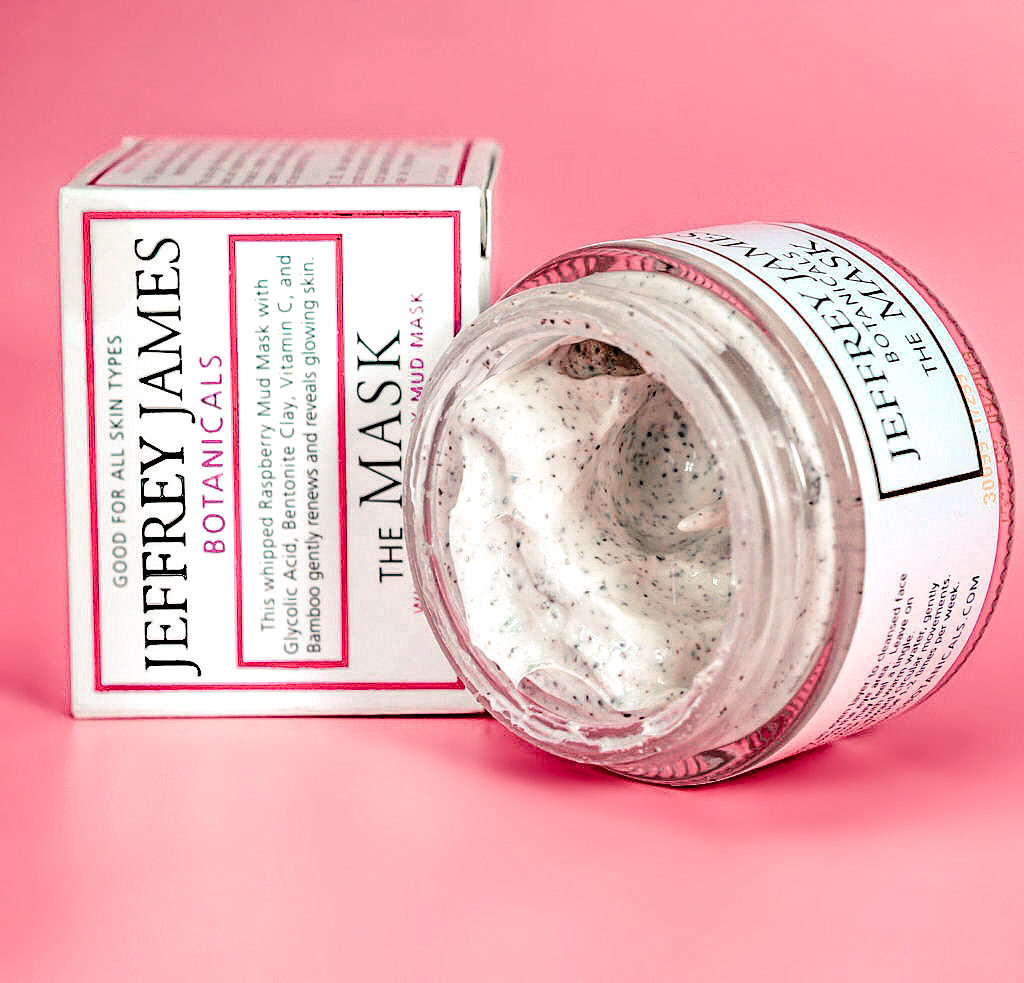 ROIL
ROIL Private Collection
ROIL is a luxury line of hair and body care. It uses custom-crafted concoctions of organically farmed oils including Rosehip Oil.
Find more ROIL details and our coverage here.
Pinch of Colour
Pinch of Colour is a waterless skincare and makeup line. Each has natural nourishing ingredients. Rosehip Seed Oil can be found in Pinch of Colour Healthy Lips Waterless Lip Oil, and Matte Velvet Waterless Lip Colour.
Healthy Lips Waterless Lip Oil is a glossy lip stain in a tube that behaves like an intensively hydrating lip treatment.
Epionce
Epionce Renewal Facial Cream is a medical-grade botanical-based skin cream using beeswax for skin barrier care and rosehip seed oil for anti-aging.
Rosehip Seed Oil is used in several Epionce products, see more about the Epionce product range here.
Rosehip Honorable Mentions
Kat Burki
Both these formulations leave skin soft and looking marvelous. Watch for our upcoming full coverage on these two stellar rosehip products.
Kat Burki Rose Hip Intense Recovery Eye Cream
Kat Burki Rose Hip Intense Recovery Eye Cream Is a fast-absorbing, waterless eye serum packed with skin-restoring organic goodness to plump and treat the delicate eye area skin.
Kat Burki Rose Hip Revitalizing Face Serum
Kat Burki Rose Hip Revitalizing Face Serum is a dense cream that is warmed between the fingers, Creme de La Mer style. It makes skin glow.
Also:
I-Lublin Anti-Wrinkle is an impressive collagen-building trifecta of rosehips, Goji, and Palmitoyl Hexapeptide-14. Palmitoyl Hexapeptide-14 is a peptide that stimulates collagen production with effects very similar to Renova.
Keeva Organics Acne Treatment Cream with Tea Tree Oil. Rosehip Seed Oil is a supporting player to Tea Tree in this acne-reducing formulation. Rosehip soothes inflammation and reduces Tea Tree Oil irritation.
Science of Skincare Series
Our Science of Skincare series explores peer reviewed research on the benefits of natural and clean beauty ingredients.
Did you find this rosehip review useful? Then you may enjoy these Science of Skincare Series articles:
---
QUESTIONS? COMMENTS?
Have any comments or questions about Rosehip Oil or these rosehip oil products? The Style Chicks are here to answer them.
Know a rosehip seed oil product that should be on this list? Tell us!
Leave a comment or email us at questions@stylechicks.com