My Pinterest contains many pictures of herb and kitchen gardens. These pictures are all filled with big windows with lots of natural light to grow plants. But the reality is my kitchen doesn't get enough light to keep herbs or plants alive, much less grow from seed. The solution? WEDCOL Red Blue Spectrum Plant Grow Light.
Why it is Special
WEDCOL Red Blue Spectrum Plant Grow Light is ideal for growing plants where there is not much light. And the sturdy, versatile clamp with gooseneck heads covers lots of areas yet has a tiny footprint for small spaces. It is ideal for:
an indoor garden or starting seedlings in a studio or apartment garden
basement apartments
homes with low light windows or windows without morning light.
DESIGN
This growth lamp is 5 heads with a total of 136 LEDs. Each head has 9 blue lights and 18 red lights.
RED LIGHT
The red light is a 660nm light. 660 nanometers is the peak wavelength for photosynthesis. Red light is best for blooming and fruits. Red light at this wavelength is particularly helpful for germination, flowering, and photosynthesis.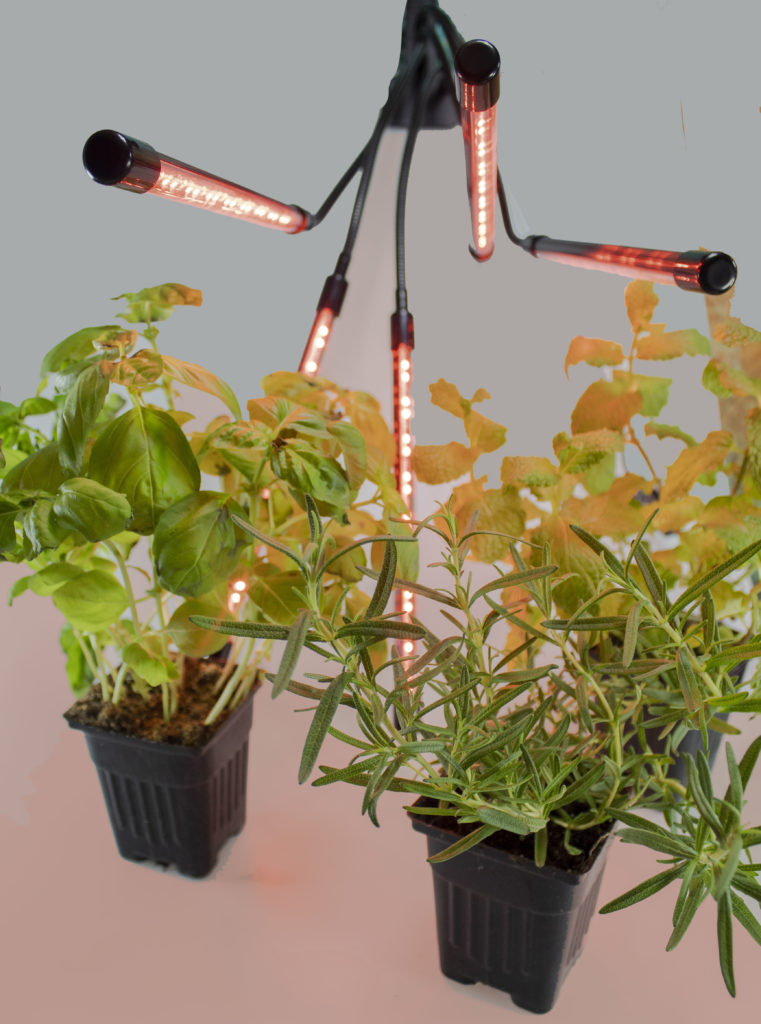 BLUE LIGHT
The blue light is a 460nm light. Blue light helps plants with chlorophyll synthesis Blue light helps induce Chlorophyll and Carotenoid. These are both necessary for healthy leaves.
PURPLE LIGHT
The combination of both lights creates a purple light mix for healthy plant growth. Purple light enhances photosynthesis. It is very helpful for all kinds of indoor plants and all stages of growth.
FEATURES
Adjustable Gooseneck 135 LED Grow Lamp with a 3, 9, or 12-hour timer.
Strong Powerful Clip that clamps to the windowsill, a table, or shelf
10 Dimmable Levels
3 Modes
360° Flexible Gooseneck heads for various size plants
10 Dimmable Modes: 10% to 100% Brightness.
3 Timing Modes: 3, 9, and 12 hours.
Turn On/Off: Turn on/off easy to control.
Superior LEDs with 50,000 lighting hours
Scientific Heat Dissipation: an improved heat sink keeps the lights from getting hot, making them suitable for indoor plants and gardens
The Experience
Grow Light is intuitive and easy to use. Simply connect the adapter to the device and the plug to a nearby power source. Affix the clamp on a table, shelf, or windowsill.
Select blue, red or purple light. Select the timer and one of ten dimmable preferences.
Use the red light and purple light on freshly planted seeds to promote seedling growth indoors.
The clamp can secure onto a table, shelf, or windowsill
Plants I Grow Indoors with my WEDCOL Grow Light
---
Watercress
Collagen enhancing watercress is full of vitamins and a skin-friendly, copper-rich, flavorful green. It is pricey in the store but easy to grow at home as long as you have enough light.
Microgreens
Nutrient-packed microgreens are great on a salad or sandwich, microgreens are filled with healthy vitamins.
Seedlings
Growing from seedlings – start your vegetable garden inside from seed.
Fresh Herbs for Cooking
Basil, mint, parsley, cilantro, and rosemary are all easy to grow with a grow light. Fresh herbs add so much to simple meals at home. I love having fresh basil to add to sauces and pasta or on my pizza!
Aloe Vera
Aloe plants for burns and scratches, hair conditioning, and skincare
Easy to grow indoor vegetables
Tomatoes and peppers are easy to grow indoors all year round
Flowering Plants
Plants that underperform and can use a bit of extra love including flowering plants
Where to Buy It
Find the WEDCOL Red Blue Spectrum Plant Grow Light at http://www.amazon.com/gp/product/B0986MN8SG
---
QUESTIONS?
COMMENTS?
Have any comments or questions about WEDCOL Red Blue Spectrum Plant Grow Light?
The Style Chicks are here to answer them.
Leave a comment below or Email Us
---
About This Post
The Style Chicks team personally tests and thoroughly evaluates each product before it is featured. We received compensation for our time and effort to form an opinion about this product.
We independently research product ingredients to understand how every featured product works. We show our research in the References section of each article.
All opinions and experiences are 100% our own.