Who wouldn't want to up their eyelash game? Lash growth and lengthening products abound. Many of them cause some eye irritation and redness. For eyelash growth without the irritation, we recently discovered Osmotics Nutrilash Brow and Lash Enhancer, ideal for growing longer, thicker eyelashes and filling in bare spots on eyebrows.
If you have sworn off lash growth products due to some brands leaving your eyes feeling dry, irritated, red and grainy, you may be reluctant to try another lash product. We tried several over time, with various degrees of success. Osmotics Nutrilash Brow and Lash Enhancer offer non-irritating lash enhancement.
One lash lengthening product you're likely familiar with is Latisse. Latisse does grow longer lashes. But the active ingredient, bimatoprost, is a known eye irritant. The other proven ingredient that causes two known active ingredients that cause lash growth in various lash products is both known to irritate the eyes. While you are not supposed to actually get the liquid in your eye, just on your lashes, it is very difficult not to accidentally get some in the eye.
ABOUT Osmotics Nutrilash Brow and Lash Enhancer
Osmotics Nutrilash takes a different approach to lash growth. It focuses on lash line density and addressing sparse areas. Instead of thin, spindly, longer lashes, Nutrilash promotes stronger and fuller lashes, notably, filling in sparse spots. I find this creates a lusher, fuller lashline and more defined eye. Length can always be added with mascara, but lashline fullness is harder to fake.
Osmotics Nutrilash Brow and Lash Enhancer FEATURES OF NOTE
This product is far less irritating to the eye because, like all Osmotics products, it only contains the ingredients clinically proven to get the job done, no fillers, no extras. This means less possible irritation due to chemical interaction and reaction to fillers, dyes, etc.
It uses the same technology to grow hair as the Osmotics Follicle Nutrient System. It is tested as safe for eyes.
It features 28 disposable applicator brushes and a clean dispensing weekly four tube system, so there is no product contamination from "double dipping" onto your eye and into the product.
I particularly like filling out my brow tail to the proper length and applying it to the top arch of my brows to encourage brow hair growth for a youthful, fuller, lifted brow.
Lash extensions can take their toll on fragile lashes. If your lashes look lackluster after removing lash extensions, Osmotics Nutrilash Brow and Lash Enhancer can get them healthy and back in shape.
Got one brow or eye that droops more than the other? Most people do. Add just an extra dot at the top of the arch of your drooping brow to encourage hair growth in an area that will visually raise your brow
VERDICT: I like the fuller lashline look I get from Osmotics Nutrilash Brow and Lash Enhancer, as well as the brow enhancement, my brows look fuller and more natural, especially since I can fill out the tails of the brows and sparse spots. It does require a bit more time than Latisse does to grow lashes, about 4-6 weeks. But I prefer the thick, lush, healthy look of the Osmotics grown lashes to the thinner and spindly look of the Latisse lashes.
I have not experienced any eye irritation or redness with daily use. One application is enough for lashes and touching up the sparse spots on my brows.
WHERE TO BUY Osmotics Nutrilash Brow and Lash Enhancer
Find Osmotics Nutrilash Brow and Lash Enhancer at Osmotics.com, DermStore.com, and SkinStore
---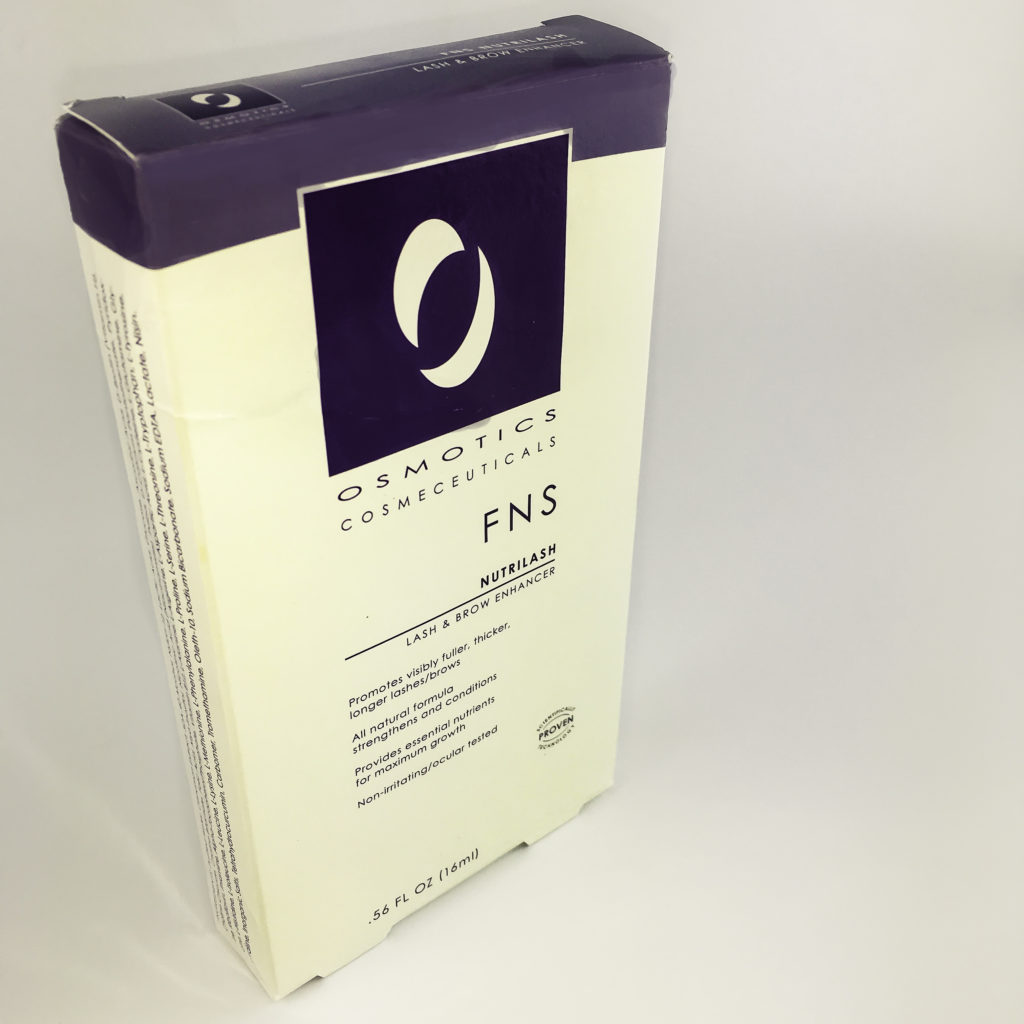 QUESTIONS?
COMMENTS?
Have any comments or questions about Osmotics Nutrilash Brow and Lash Enhancer?
The Style Chicks are here to answer them.
Leave a comment or Email Us
---
---
ABOUT THIS POST
Style Chicks researches each active ingredient in each formulation we test, and we personally test each product while using no conflicting, overlapping or competing products. The opinions in this post are entirely our own.