A massage gun relieves muscle soreness and stiffness. It accelerates recovery and increases blood and lymphatic flow. The Opove Apex Massage Gun is the latest innovation from Opove. With a design built from user feedback, it is easy to handle, powerful and quiet.
If you need a regular massage to recover after a workout or strenuous activities, the Opove Apex Massage Gun is worthy of your attention.
WHAT MAKES OPOVE APEX SPECIAL
45º Angle Design
Unique 45º holding angle design, you can massage your neck and back easily without a tired wrist or arm. Reach odd angles such as the trapezius area. It is easier to hold and never drop this ergonomic design.
Palm-Sized
The Opove Apex has an ergonomic, easy grip, so you don't drop your device
EXTREMELY QUIET
The Opove Apex won't disturb others. It is silent enough to use in the same room with partners, roommates, and even quiet enough to use discretely in your office cubicle or while watching TV. It is only 49 decibels, quieter than a whispered conversation in a library!
PAIN-FREE
The Opove Apex provides relief to deep muscle tissue without pain
ENDURING CHARGE
The long-lasting battery that one charge lasts a month
FORCE-ASSIST
Force-Assist is like power steering. It does much of the work for you so it takes much less strength to hold and direct the massage gun.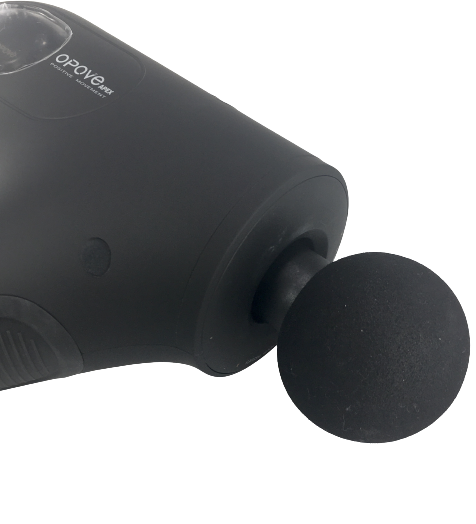 DEEPLY PENETRATING MYOFASCIAL TISSUE
The Opove Apex reaches the myofascial tissue level at 14.5mm deep – deeper than even an experienced massage therapist can consistently reach during a professional massage therapy session. Myofascial Tissue can cause trigger point areas that radiate into
USER FEEDBACK INSPIRED DESIGN
The Opove Apex was designed based on feedback from 2,000 massage gun users.
3 MASSAGE LEVELS
There are three massage levels with a maximum power of 2700 RPM.
Level One is for relaxation

Level Two is for warmup

Level Three is for recovery
3 COLOR OPTIONS
There are three color options for the Opove Apex:
Polar Night Black

Camouflage Green

Galaxy Silver
The Opove Apex Massage Gun Set
This is what is included in this Opove Apex Massage Gun set:
OPOVE Apex Massage Gun

OPOVE Carry-on Case

6 Attachments

TSA approved Attachment Case

Product Manual

AC/DC Adapter
MASSAGE HEAD ATTACHMENTS
The Apex comes with six anti-microbial attachment heads.
These attachments enable the exact kind of massage you need. Each head will target different parts of the body. It replicates the motion of professional massage therapists.
Here are each of the six Apex attachment heads and what they do:
Flat Head
Used for all body parts for a relaxing vibrational massage.

Shovel Head
This is an unusual head shape not often seen in massage guns. It is used on the neck and lower back. Similar to how a massage therapist uses their thumb.
Round Head
Used for large muscle groups such as upper thighs and back.
Bullet Head
Used for joints and thin muscles, especially useful on small muscles.

Fork Head
Used for spine, ankle, and Achille's heel.
Cushion Head
Used on joints and thin muscles
Bonus Features
Free Shipping
1-year warranty
The Experience
The Opove Apex is easy to charge and super easy to use. It is exceptionally quiet!
I particularly like how lightweight it is. My hand doesn't get tired of holding it in awkward angles. It is particularly useful for the upper back and lower neck area.
The Opove Apex Massage Gun provides a safe, stable speed that is ideal for massage. It provides the health benefits of massage at the home, office, gym, or while traveling.
WHERE TO FIND IT
Find the Opove Apex Massage Gun at:
Amazon: https://www.amazon.com/dp/B09HGBK2QZ
Save $33 on Apex
with this coupon. Discount at checkout.
Opove: https://www.opove.com/products/opove-apex-massage-gun
And follow Opove
Facebook: https://www.facebook.com/opove
Instagram: https://www.instagram.com/opove.official/
---
QUESTIONS?
COMMENTS?
Have any comments or questions about Opove Apex Massage Gun?
The Style Chicks are here to answer them.
Leave a comment below or Email Us
---
About This Post
The Style Chicks team personally tests and thoroughly evaluates each product before it is featured. We received compensation for our time and effort to form an opinion about this product.
All opinions and experiences are 100% our own.