Green Tea is consumed as a beverage for health and beauty benefits. But it also works wonders when applied topically. An ingredient in many skin and hair products, this anti-aging superstar offers a host of beauty benefits.
Green Tea Skin Benefits
Green Tea feeds and moisturizes the skin, calms irritation, and is an excellent antioxidant. Topical Green Tea application can calm the irritation that aggressive topicals such as Retinol cause.
Green Tea on a compress or cotton pad can soothe inflammation from sunburn or angry cystic acne.
Drinking green tea has anti-aging benefits from polyphenols. It can reduce sun damage, decrease collagen breakdown and increase cell regeneration.
Green tea contains polyphenols that soothe skin while providing antioxidants. Polyphenols may improve sun-damaged skin. [1]
High in Epigallocatechin gallate (EGCG), Green Tea is a major player in skin health and appearance. EGCG is the potent antioxidant from green tea. It protects against environmental damage and neutralizes free radicals that prematurely age skin. Research shows EGCG reactivates dying skin cells. This shows promise for repairing sun damage and scar healing. [2]
Hair Benefits
Topical application of Green Tea reduces hair fall. Dermato-trichologists use green tea as an excellent scalp massage as it nourishes the scalp, soothes inflammation and dandruff. The Polyphenols in green tea are good for hair roots and follicles, promoting hair regrowth. [3]
Green Tea removes DHT from the scalp. DHT is a hormone that accumulates on the scalp and chokes out hair follicles, shrinking them until they no longer grow new hair. Green Tea can remove DHT from the scalp.
Choose a quality whole leaf tea to brew your own green tea for DIY beauty benefits, or choose from some of our favorite products that incorporate green tea in their ingredients.
Brew green tea for 2 hours and allow to cool. Pour into a squirt bottle to use as a 5 minute treatment on your hair and scalp in the shower.
Choosing Green Tea
Superior results come from full leaf tea that is fresh. Choose full leaf loose tea whenever possible, not the dust found in tea bags.
Adagio teas has loose leaf teas that are fresh and do not contain preservatives. Choose one without added sugars.
Local health stores may also have bulk loose leaf tea.
DIY Green Tea Treatment Ideas
Use brewed and cooled green tea as a soothing and nourishing face wash.
Rub your face with green tea ice cubes for a refreshing morning pick me up that makes skin glow.
Soak a muslin cloth in green tea and place in a Ziploc baggie in the refrigerator. Use as a cooling facial compress over a moisturizer or mask.
Add brewed green tea to bathwater or a foot soak.
Rinse washed hair with green tea for shine. Focus on a gentle scalp massage to remove DHT.
Recommended Beauty Products Featuring Green Tea
Some products we use that feature green tea in their ingredients include:
Haruharu Wonder Honey Green Brilliant Cream
Haruharu Wonder Honey Green Brilliant Cream is a lightweight gel like cream that absorbs quickly with no tacky dry down. It is lightweight enough for day use but packs the ingredients of a decadent treating night cream, including several synergistic fermented ingredients, such as fermented green and white teas, that promote collagen synthesis.
ROIL LIFE SHAMPOO
Developed by celebrity hair stylist Amanda George, the ROIL Private Collection range features green tea in products such as their Roil Shine Shampoo and Roil Body Lotion.
ROIL Shine Shampoo has a decant lather and leaves hair clean yet hydrated. The Green Tea pairs well with Indian Gooseberry and Rosehip Oils.
BeautyStat
BeautyStat Universal C Refiner combines green tea's EGCG with a stable Vitamin C for strong anti-aging protection. The green tea makes an excellent buffer so skin can tolerate the vitamin C.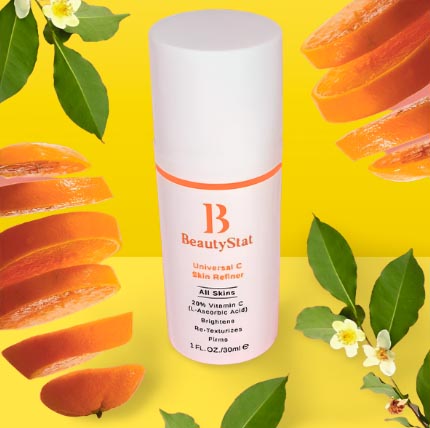 emerginC Eye Serum
EMERGINC Scientific Organics Eyelight Serum combines green tea with Komucha, White Tea, Grape Stem Cells, Seaweed Extract and Yerba Mate. It depuffs eyes while treating signs of aging.
---
References
International Journal of Cosmetic Science, February 2015, pages 456-463
Journal of Pharmacol Exp Ther 2003 306: 29-34
Journal of Leukoc Biol. 2001; 69:719-726