Many of us seek clean skincare and eat healthily. But do we still slather our lips with chemical-laden lipstick? Probably because many "clean" lipsticks leave much to be desired in texture, color choice, and packaging. So we are pleased to introduce a brand that caters to our desire for a luxe lipstick with treating, clean ingredients. This brand is Madame Gabriela Beauty. It has an exceptionally smooth finish held in a sleek and chic lipstick case.
Brand Overview
Madame Gabriela Beauty is a clean-cosmetic lipstick with ingredients typically found in skincare or a luxe lip treatment. It is an ingredient-driven lipstick that has a luxury lipstick look, texture and feel.
There is much to say about this lipstick range: the experience, the shades, the wear, and our a full ingredient profile. These lipsticks are truly 100% clean.*
The Experience
I love natural lipstick but I am frequently disappointed with shade selection and texture.
Many clean and natural lip cosmetics are, in our opinion, overly brown or yellow-based hues. These muted shades are lovely on redheads and warmer skin tones, but they don't work as well with fairer or pink-based undertones. At least not for us.
Natural ingredient lipsticks also tend to be very waxy and dry or overly soft and runny. I require high performance and definition.
So we were delighted to discover Madame Gabriela Beauty has mastered high performance, clean lippies in cooler tones with impressive color payout.
And these lipsticks have such a smooth, silky finish.
We were particularly impressed with these lipsticks using ONLY ingredients that are clean and safe but are cleverly formulated so that there are no compromises in quality. The texture is excellent.
They are not waxy or watery. They have good wear time and don't make my lips look or feel dry. There is no compromise to achieve a clean product.
The shades
There are three shades:
New York at 1 PM a bright cheery pink
Paris at 7 PM is a classic true red pigment
Sydney at 8 AM a lightweight nude
✽
Paris at 7 PM
---
Madame Gabriela Paris at 7 PM is a true classic red with a blue base.
✽
Sydney at 8 AM
---
Madame Gabriela Sydney at 8 AM is a pink undertone nude suited to pale to medium-dark skin tones. Just warm enough without being too dark or orange, yet not too gray or beige.
It does not oxidize into a brown or bleached out foundation tint look after a few hours of wear.
✽
New York at 1 PM
---
Madame Gabriela New York at 1 PM is a cheery blue base pink.
A classic wearable pink is hard to find. I am always attracted to pink lipsticks, but rarely find the shade I like on my lips.
This shade has color payout without appearing too garish. It is not Shocking Schiaparelli pink, but it is not ballerina bare or teenage bubble gum either. Polished and glam like its' namesake. Madame Gabriela New York at 1 PM is a bright cheery pink perfect for spring and summer.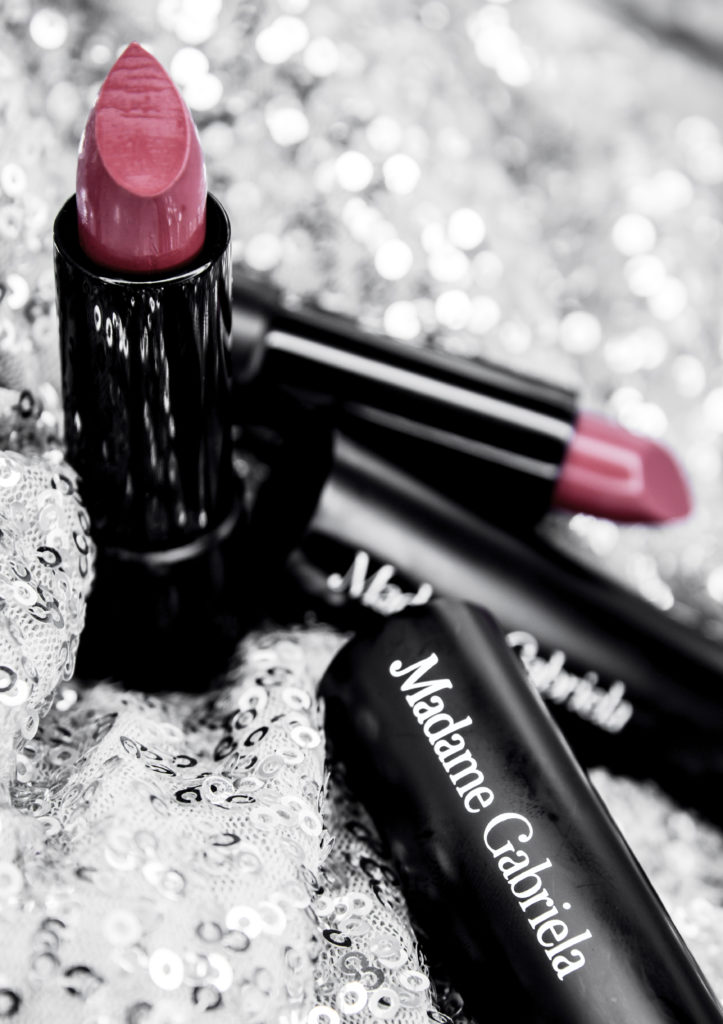 ✽
The Packaging
Madame Gabriella Beauty comes in a sleek magnetic cap case that releases at the press of the logo top button. Opening this lipstick is cool and modern … and makes me feel like a Bond Girl.
The cap bears the signature Madame Gabriela Beauty embossed logo design.
The box is white with a cheery yellow stripe and logo.
Signature Packaging
✽
The Ingredients
Take look at this impressive formulation of this Ingredient Driven Lipstick:
Ingredient Profile
---
Manuka Honey
Organic Manuka honey holds minor natural lip plumping abilities.
A softening humectant, Manuka Honey has healing, protecting and hydrating properties. It fights free radicals and is an anti-aging, boosting collagen production and cellular regeneration.
Manuka Honey works best when combined with hydration. Manuka Honey has natural antibacterial and antiviral properties to heal skin conditions.
Persea Gratissima (Avocado) Oil*
Organic Avocado Oil is 72% monounsaturated fatty acids. This is higher than Coconut or Grapeseed oils. Avocado Oil mixes with water better than other oils. Avocado oil decreases dryness and improves skin texture. Rich in Omegas 3 and 6, Vitamins C,D, and E, Avocado Oil promotes scar healing and collagen production.[1]
Few oils can soften and reduce the appearance of vertical lip wrinkles like Avocado can. It gives this lipstick a smoother application and finish.
Sesamum Indicum (Sesame) Seed Oil
Sesame Seed Oil softens the skin. Rich in linoleic acid, vitamins A an E, it rids the skin of dry flakes. Sesame Oil is ideal for sensitive, irritated lip skin.
Sesame Seed Oil has a very thick and rich texture. It absorbs exceptionally well and seeps into the skin, making it soft and silky.
Theobroma Cacao (Cocoa) Seed Butter*
Cocoa Seed Butter contains a significant amount of polyphenol and flavonoid antioxidants. It prevents peeling lip skin and keeps lip skin elastic.
Matricaria Recutita (Chamomile) Flowers*
Chamomile is a gentle antioxidant with potent skin-soothing action. [2]
Ricinus Communis (Castor) Seed Oil*
Organic Castor Oil is a humectant. It draws moisture into the skin, hydrating while serving as a subtle lip plumper. It softens skin with its' high Vitamin E content.
Castor Oil is typically too thick and sticky to apply directly to the lips, but in this lipstick formulation, it works effectively with no residue or unpleasant scent.
Helianthus Annuus (Sunflower) Seed Oil*
Organic Sunflower Seed Oil Sunflower is hydrating, nourishing and an excellent "supporting" oil base. It retains moisture in the skin and is rich in vitamin E.
The Linoleic acid gives sunflower seed oil anti-inflammatory properties, provides a lipid barrier and is a natural treatment for atopic dermatitis. [3]
Butyrospermum Parkii (Shea) Butter*
Organic Shea Butter can feed the skin and overhaul the skin texture, even on deep burns or dry, cracked lips.
Brassica Campestris/Aleurites Fordi Oil Copolymer
Brassica Campestris is an emollient antioxidant that is rich in omega-3 and omega-6 fatty acids.

A combination of two natural oils that provide a soft and smooth finish and help form a "film" for product staying power.
Bambusa Arundinacea (Bamboo) Stem Extract
Bamboo Stem Extract has flavones, a source of natural antioxidants. Since the skin on lips is a major target of oxidative stress, the antioxidant protection provided by bamboo extract is excellent within this formulation.[4]
Bamboo extract contains glycosides, phenolic acids, and amino acids. These hold skin nourishing and soothing properties.
Bamboo extract is also hydrating, supporting other ingredients like Manuka Honey.[5, 6]
Thymus Vulgaris (Thyme) Leaf*
Thyme has skin protective properties, including some UVA and UVB protection.
High in anti-oxidants it is a skin anti-ager.
Rosmarinus Officinalis (Rosemary) Leaf*
Rosemary combats dry skin. It naturally protects skin from sun damage and free radicals. It also has natural antiseptic properties and is a gentle exfoliant for dead skin flakes to keep lips smooth.
Rosemary Extract is soothing and helps reduce puffiness and lightens dark spots. It is stimulating and promotes better blood circulation to deliver the nutrients necessary to build collagen, elastin and to encourage scar repair.
Cananga Odorata (Ylang Ylang) Flowers
Ylang Ylang softens and smoothes skin and stimulates new cell growth. It soothes inflammation and irritation due to skin conditions such as psoriasis and eczema. [7]
Tocopherol
Tocopherol is a form of Vitamin E derived from vegetable oils. It is a moisturizing and skin softening antioxidant.
Citrus Aurantium Bergamia (Bergamot) Peel Oil*
Citrus Aurantium Bergamia, better known as Bergamot has anti-inflammatory and antioxidant properties. Linalool and carvacrol are compounds in bergamot oil. Both are excellent anti-inflammatories for dry, chapped lips.[8]
Citrus Sinensis (Orange) Essential Oil*
Organic Orange Oil is an antioxidant that reduces inflammation. It improves collagen production resulting in the reduction of dark spots and wrinkles.
Collagen production is especially important on lips that quickly show age and deflate with time.
*Certified Organic Ingredients
No junky fillers
Preservatives and thickeners can be tricky. This formula contains safe and good natural stuff to create the texture we associate with a luxury lipstick.
Shorea Robusta Resin
Shorea Robusta Resin is extracted from the sal tree of the Indian subcontinent. It improves long-lasting and film-forming properties and is especially popular in color cosmetic products. Gives a luxe viscosity.
Ascorbyl Palmitate
A fat-soluble vitamin C that serves as an antioxidant used in cosmetic preparations and as a food additive.
Rhus Verniciflua Peel Cera/Rhus Succedanea Fruit Cera
Wax made from the mesopeel of the berries of the Japanese wax tree
Helianthus Annuus Seed Cera
Helianthus Annus Seed Cera is the wax obtained from the seed of the Sunflower. An emollient.
Zea Mays
Organic Corn Starch, a largely translucent natural powder used to give a silky feel or smooth texture to a creamy skin or cosmetic product.
Polyglyceryl-2 Oleate
A non-toxic, plant-based emulsifier. Polyglyceryl 4 Oleate is an ester of the fatty oleic acid and polyglycerin-4. It has glycerin-like qualities from palm and coconut oil. It works with both water and oil-based ingredients to hold a formula together. A safe and gentle alternative to PEG.
Polyhydroxystearic Acid
Polyhydroxystearic Acid is an emulsifier that stabilizes products. Often found in natural sunscreens.
Polyglyceryl-2 Stearate
A natural plant-based ester with glycerine qualities. It keeps a product moist.
Euphorbia Cerifera (Candelilla) Wax
Candelilla Wax is a vegan substitute for beeswax with similar properties. It works well with other waxes for improved product consistency and to raise melting points without chemicals.
Vanilla Planifolia
Natural Vanilla Bean Flavor from the vanilla orchid accounts for the slight delicious scent.
✽
Chic state of the art lipstick bullet design, silky smooth finish, good staying power, excellent treating ingredients, no junky fillers with good color payout.
Where to Find It
Find all three shades of these high-performance, 100% luxury Madame Gabriella lipsticks at Madame Gabriella Beauty.
---
QUESTIONS?
COMMENTS?
Have any comments or questions about Madame Gabriella Beauty lipsticks?
The Style Chicks are here to answer them.
✽
---
References
de Oliveira, Ana Paula et al. "Effect of semisolid formulation of persea americana mill (avocado) oil on wound healing"

Evidence-based complementary and alternative medicine : eCAM

vol. 2013 (2013): 472382. doi:10.1155/2013/47238

Journal of Clinical and Aesthetic Dermatology, January 2009, pages 36-40
Lopez Perez G, Torres Altamirano M. Indications for sunflower oil concentrate in the treatment of atopic dermatitis. Rev Alerg Mex. 2006;53(6):217-25.
Journal of Natural Pharaceuticals, December 2010, issue 1, page 40
Tanaka A., Zhu Q. et al. Biological activities and phytochemical profiles of extracts from different parts of bamboo (Phyllostachys pubescens). Molecules 19, 8238-60 (2014)
Wang J., Yue YD. et al. TLC screening for antioxidant activity of extracts from fifteen bamboo species and identification of antioxidant flavone glycosides from leaves of Bambusa. textilis McClure. Molecules 17, 12297-311 (2012)
Cássia da Silveira E Sá, Rita et al. "Analgesic-Like Activity of Essential Oil Constituents: An Update." International journal of molecular sciences vol. 18,12 2392. 9 Dec. 2017, doi:10.3390/ijms18122392
Wilson R., Aromatherapy: Essential Oils for Vibrant Health and Beauty Avery Publishing 2002 Pgs. 135-136
---
About This Post
These Madame Gabriella Beauty Lipsticks were submitted to Style Chicks for consideration purposes. All opinions and experiences are 100% our own.